Join us for a Fiesta In Paradise
Friday, May 4, 2018 — 6:00PM
Morongo Golf Club at Tukwet Canyon
Tickets Now on Sale for our Annual Evening of Fundraising and Fun to benefit students of Competitive Edge Charter Academy (CECA).
Check back to view the 2018 Silent and Live Auction items.
This year's exciting event will take place Friday, May 4th, at the beautiful Morongo Golf Club at Tukwet Canyon located  in Beaumont, CA  Doors open at 6pm! This is our most important fundraiser of the year and all proceeds go to support technology upgrades at CECA. Scroll down for event details.
LOCATION
Morongo Golf Club at Tukwet Canyon (map)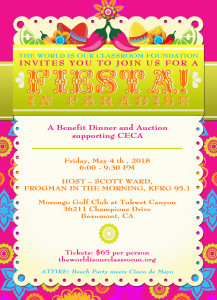 36211 Champions Drive
Beaumont, CA
OUR INSPIRATION
Fiesta in Paradise is Beach Party meets Cinco de Mayo.   Dress "Resort Casual" and join us for a fun evening.
TICKETS
$65 per person
Download a rsvp card to complete and return to the CECA office.
Childcare will be offered by CECARE for those attending the Fiesta in Paradise Event, $20 per child.
EVENT SCHEDULE
Doors open at 6 pm for a fun cocktail hour for all our guests. The evening begins with our silent auction featuring gift baskets and donations.  The prizes will be on display for all to view and place their bids. The music for the evening will be supplied by DJ Jason Dean, a talented CECA parent.
Our dinner program begins at 7pm and will once again, be hosted by former CECA parent Scott Ward, Frogman in the Morning, K-FRG 95.1.
All tickets include dinner, beverages, music, dancing, and opportunities for amazing prizes, including exclusive parking spaces at CECA! The students at CECA are sure to be the big winners of the evening!
DONATIONS
As a valued community partner, we invite you to donate to the Fiesta in Paradise Benefit Dinner and Live Auction. A generous donation of your premier products or services, gift baskets or gift cards would be a wonderful addition to our auction.